4 Tips to Reduce the Vulnerability of a Security Fence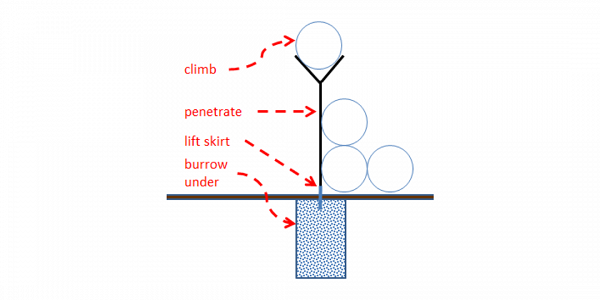 In our previous blog (10 tips to prepare the perfect perimeter), we stated that your perimeter is often your first line of defence against an attacker.
However, they are not impenetrable.
In this blog, we expose the most likely ways a perimeter fence is breached along with tips to protect against them.
The most typical ways a perimeter fence can be defeated are by:
climbing,
penetrating,
lifting the bottom of the fence,
or by burrowing under the fence.
There are also the less typical ways of circumvented by stealth or flattening by brute force, but for the purpose of this blog we will just be covering the most typical ways.
Climbing can be made more difficult by the addition of razor wire to the top of the fence. Ideally, we would recommend a 600mm coil of razor wire sat on a V - shaped outrigger. At least half of the razor wire should protrude above the outrigger.
Penetration vulnerability can be reduced by the addition of coiled razor wire on the inside of the fence.
Lifting the skirt can be made more difficult by ensure the fence is fixed into the base and there is no gap between the fence skirt and the foundation.
Burrowing under the fence can complicated by a deep concrete base or extending the fence material (especially if welded mesh or expanded metal) beneath the surface of the ground.
Once these enhancements have been made, it maybe worthwhile considering an additional fence. However, it is often the case that a second fence is installed far to close the outer fence. A gap of less than 9m is easily bridged with aids such as a ladder or scaffolding planks.
I hope you have found these tips useful. For even more information, you can always download our Perimeter Security Checklist below.
Or, if you require any specific advice, please get in touch.