Case Study: Securing Sites with CCTV and Alarm Systems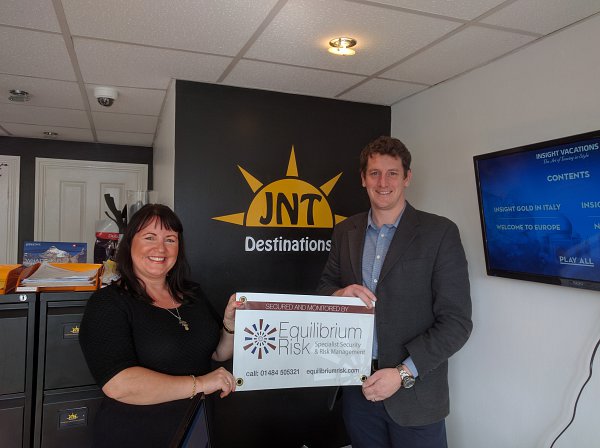 Setting up a business is a daunting prospect. One of the most important aspects is to ensure the safety and security of your new business, building, employees and assets.
Often, Organisations overlook the importance of business security until they face a problem, at which point it's too late. For any business, there should be a well-set security monitoring system that guarantees the safety of employees, customers, and the organisation itself. According to government statistics, the number of crime incidents in the UK (including burglary and theft) in the retail sector was 4.1 million in 2014.
Consequently, when we were approached by Tanya Haigh, Managing Director and owner of The Luxury Travel Lounge in Leeds, we were more than happy to help in ensuring her site was safe and secure against criminal activity and vandalism.
Home of renowned travel company JNT Destinations, The Luxury Travel Lounge recently opened a new site in Horsforth, offering bespoke holidays and travel destinations to the local Leeds community.
In preparation for the store opening, Tanya requested that Equilibrium take a closer look at the premise, inspecting whether the property was fit for purpose and checking the correct security measures could be put in place.
In order to assess the security needs of the business premises we conducted a free security analysis, which helped us to highlight and identify the strengths and weaknesses of the property. In order to complete a full inspection, one of the key points of the analysis was to conduct a detailed investigation of local crime statistics. This helped us to ascertain the level of security needed and appropriately allocate the correct resources.
Once the business security analysis was complete, it was decided that an alarm and CCTV system should be fitted to the property. This was installed to ensure the Managing Director, Tanya Haigh could access the system anywhere in the world.
Due to Tanya's busy work schedule, security procedures had to be put in place with a level of urgency. Equilibrium Risk was able to install the alarm and CCTV system in a timely and professional manner, with very little disruption to her business operations. As a result, The Luxury Travel Lounge is now a safe and secure workplace for members of staff and Tanya can rest assured that her business is protected against criminal activity and vandalism.
If you need help installing an alarm or CCTV system get in touch today for a free security assessment.