Cross-sector Safety and Security Communications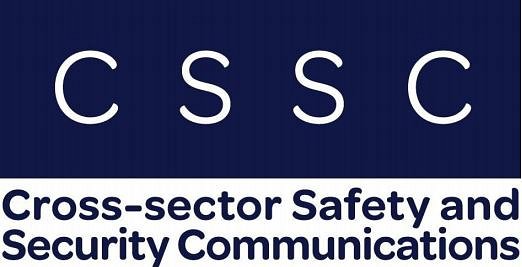 Equilibrium Risk is a proud member of the Cross-sector Safety and Security Communications project. The aim of the project is to help businesses remain safe and secure by providing information that will assist them to develop robust resilience and emergency preparedness plans. This is achieved by delivering accurate, timely and authoritative messaging and information.
The heart of the project is to act as an interface between those who have information and those who need to receive it.
If you would like to receive this accurate, timely and authoritative messaging and information, please join here. We promise not to send you unwanted marketing material, just that information that you need.
About the Project
The Cross-sector Safety and Security Communications (CSSC) initiative, was founded in June 2011 by a team of senior security experts, with the aim of building a messaging platform, to facilitate communications between the private and public sectors, on issues surrounding security and business resilience.
The initial focus of CSSC was to help businesses prepare for business as usual in the lead up to, and during the London Olympic and Paralympic Games.
The initiative was formed on a partnership basis between law enforcement, government departments and nearly every industry sector that operates in the capital and beyond. Industry Sector Leads (ISLs) were identified for each industry, with a remit to participate in briefing calls and events, and disseminate appropriate messaging conveying "one single truth" to their networks.
Since launching, the CSSC has helped companies prepare for scenarios ranging from counter terrorism, cybercrime, public order events, environmental and transportation issues, to hostile reconnaissance, fraud and security alerts.
The success of the initiative has led to expansion to other regions of the UK. CSSC Scotland was formed in 2013 to prepare for the Glasgow 2014 Commonwealth Games, and this was followed by a CSSC hub being established covering the six 'Eastern' counties. Work is now underway to establish additional CSSC hubs for all other regions throughout the UK.
In August 2013 full charitable status was secured for CSSC, which is now registered under charity number 1153764. The charity's objectives are stated as: To promote for the public benefit, in partnership with the police, law enforcement agencies and other relevant bodies and organisations, the protection of people and property from, and the prevention of, criminal acts in particular but not exclusively by the provision of a national communication vehicle between the public and private sectors, providing information on all relevant security matters.
The CSSC Board of Trustees oversees the running of the charity overall, with region-specific management boards set up for each individual hub. Regional operational teams, seconded from both public and private sector bodies, handle the day-to-day running of each hub.
CSSC builds on existing and specialist successful and proven security networks such as 'Project Griffin' in the security sector and 'Sister Banks' in the finance sector. The aim being to provide the means for the police and government to communicate with the wider private sector businesses of all sizes, with authoritative messages, alerts and information on safety and security, as well as to receive feedback from business on the security issues important to them.
You can download their advice to business CSSC-Advice-to-Business-Sept-2017 here.
Sign Up
At Equilibrium Risk, we are passionate about providing information that helps business to stay safe. You can receive this accurate, timely and authoritative information by joining our mailing list here. We promise not to send you unwanted marketing material, just the information that you need.
Luke- Director