December Workshop Announced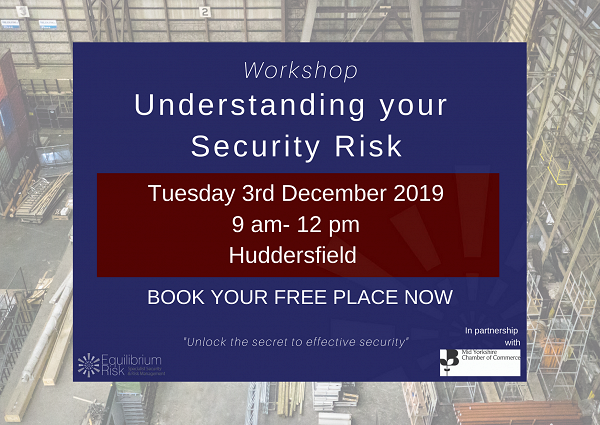 Equilibrium Risk is excited to announce that the date of their final workshop of the year will be Tuesday 3rd December, in Huddersfield.
Run throughout the year in collaboration with the Mid Yorkshire Chamber of Commerce, the workshops have been hailed a success.
Angela Proud of Proud Bookkeeping said, "I would encourage anyone to attend the workshop, the ROI on my time was very impressive, I have been on other courses (paid) and not learned as much as I did. I was impressed with Luke's approach and the outcome of the workshop. Now I have a really good idea of what I need to do to keep my business secure, now and in the future - and without spending a lot of money."
Equilibrium Risk continues to lay on these Understanding your Security Risk workshops free of charge to help manufacturers and the wider business community. They are designed to help business owners make better decisions about investing their money in security.
Luke Appleby, Equilibrium Risk's Director, said, "Decisions about investing in security measures shouldn't be about a gut feeling, they should be taken objectively. Understanding your security risk is the first step in a better decision-making process."
These workshops are uniquely designed to deal with both physical and cyber threats and as manufacturers and businesses continue to increase their reliance on the internet, there has never been a better time to deal with these issues together.
Jasminder Soor, said, "I was educated and enlightened as to the things that could go wrong, but also how it can be prevented, and the damage limited. The section about control measure and risk mitigation covered areas that were so important to me- and I have already taken steps that were suggested to me on the course."
To discover how Equilibrium Risk's Understanding your Security Risk can benefit your business, book your free place now.