EQ Risk educate Chamber Members at Business Forum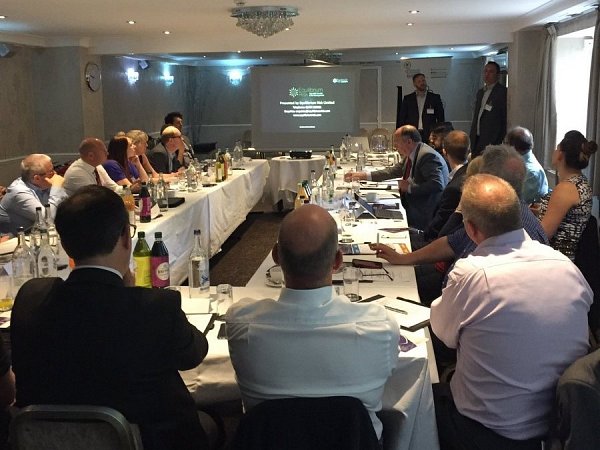 We were invited as guest speakers at the monthly Kirklees Business Forum, organised by the MidYorkshire Chamber of Commerce to discuss the vast range of cyber security concerns faced by companies. The event took place on the 23rd of June at the Old Golf House Hotel on New Hey Road in Huddersfield.
Attended by 30 Chamber Members and local business representatives, the event was aimed at presenting them with the potential security threats their companies might face, as well as the upcoming GDPR changes. Our Head of Cyber Security, Stefan Garczynski, presented the attendees with some alarming facts and figures:
40% of all cyber-attacks target businesses with fewer than 500 employees
40% of businesses do not have an incident response plan should a loss of data occur
77% businesses do not have a formal, written Internet security policy for employees
74% of small businesses reported attacks from 2014 to 2015 with an average cost of about £167,000 per attack
Cyber-crime has surpassed illegal drug trafficking as a criminal moneymaker
Martin Hathaway, Mid Yorkshire Chamber of Commerce chief executive commented: "The Mid Yorkshire Chamber of Commerce would like to thank Equilibrium Risk on providing an informative overview of Cyber Security and the upcoming GDPR for our members and guests.  The forum facilitated some good debate and highlighted the necessity for all businesses, irrelevant of size, to put together a plan ahead of the upcoming changes"
The presentation was followed by a discussion and questions from Bob's Businesses Melanie Oldham, Virtual Huddersfield's Simon Flatley, NGC Networks Steve Tipper, and Smart SMS's Mark Evans.
The key points from the discussion were:
Make your employees aware and accountable for cyber protection and GDPR;
Have policies in place to combat threats and be able to promptly react to incidents;
Start implementing changes to get ready for GDPR.
Stefan Garczynski of Equilibrium Risk said: "I was very happy to convey my knowledge on cyber security to neighbouring businesses. I believe the attendees greatly benefited from the insights I had to share, and will now be better prepared to combat cyber threats."