Fake Chrome Update!
The fake Chrome update doesn't seem to be in the mainstream news, but it is one you should keep an eye out for. It is not a new scam, but we have recently noticed it is doing the rounds again. It has been labelled the 'Fake Chrome Update'. However, despite the name, you should not ignore it if you don't use Google Chrome. It affects all other browsers as well, including Firefox and Internet Explorer.
If activated, the 'Fake Chrome Update' runs a nasty Malware batch program, which encrypts the data on your hard drive. There's no ransom note attached (for example asking for bitcoins) – it just encrypts your data making it completely useless.
What it looks like: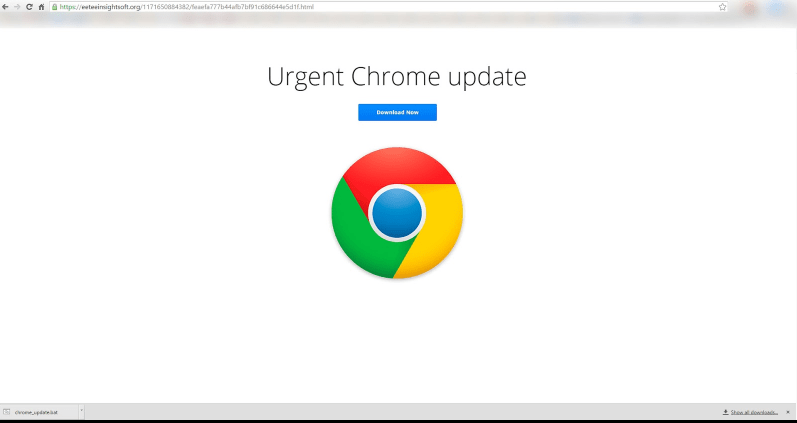 You are presented with the above screen, which looks legitimate. It is even hosted within a 'https' prefixed URL (although a none Google one), which makes it appear safe. Moreover, it's branded with the Google font and logo and a 'download now' button.
Even though it appears legitimate, whatever you do, do not click the 'Download Now' button, as this will execute the batch file. Instead, run a scan of your computer with your anti-virus and anti-malware programs (such as Malware Bytes Anti-Malware, AdwCleaner, or the Chrome cleanup tool).
You don't have to worry about Google Chrome updates, as Google automatically updates the Chrome browser to the latest stable and secure version (unless you turn that feature off, but it is highly advisable that you leave it on). Therefore, getting a message of this sort should never happen from Google or any of the other browser vendors.
If you have any concerns with Cyber Security, then please get in touch, we are more than happy to help.
Stef, Head of Cyber Security