May Workshop Date Announced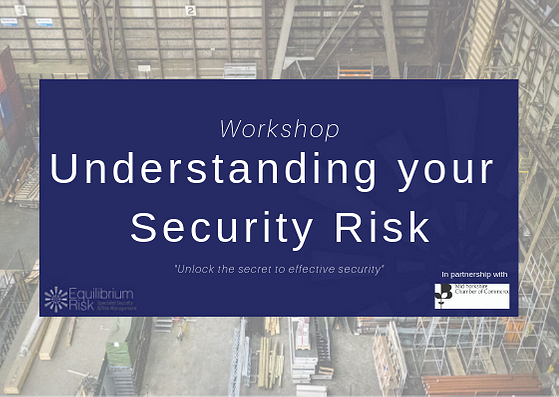 Following the success of our first Understanding your Security Risk workshop, we are delighted to announce the date for our second workshop is the 21st May, held in Huddersfield.
These workshops help manufacturers make better decisions about investing their hard-earned money in security.
Criminal activity continues to pose a significant risk to the industry, recently the manufacturing sector was highlighted as the second most targeted sector for cyber-attacks. Protecting against these sorts of attacks is essential if the industry is to continue to develop. These free workshops help manufacturers understand the risks they face, ensuring that their security measures are up to date against the latest threats.
This is the second workshop that Equilibrium Risk have run in collaboration with Mid Yorkshire Chamber of Commerce. It will be help between 9am and 12pm, off Bradley Road in Huddersfield, HD2 1GQ. The first, run in February, was fully booked and well received by those who attended.
Steve, from SMP Training, who attended the first workshop said, "It was well delivered and very informative".
As manufacturers move to automate more of their operations the reliance on the internet increases, and so to do the risks. But crucially, the more traditional risks do not fade. Understanding these risks, and knowing where to invest, has never been more difficult.
The workshops will help manufacturers better understand their risk by looking at what they need to protect- all those assets in their business that they rely upon, what the threats are to each of those assets, and lastly, how vulnerable the assets are to attack.
The result is a detailed analysis of the threats to the business, grading them from the most extreme to the negligible.
Kerry from Winder Power said: "A complex subject that is broken down into manageable and practical sections".
If you would like to know more about the workshops that Equilibrium Risk is running, you can read about them here.
Or if you can book a FREE space here.
I look forward to seeing you there.
Luke, Director