Thriving in Crisis: Cost-Efficient Security Practices for Manufacturers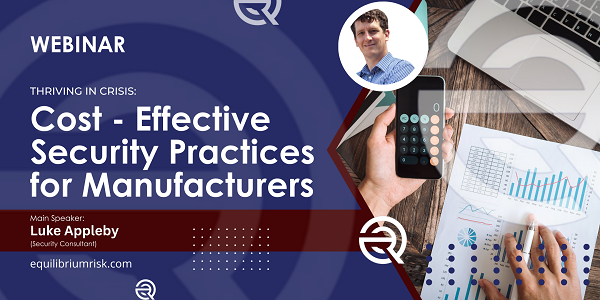 In a world defined by rapid change and unforeseen challenges, the manufacturing industry stands as the backbone of economies worldwide. However, amidst the ongoing turbulence, it's crucial for manufacturers to adopt proactive security practices that safeguard their operations, employees, and assets.
We are excited to announce our upcoming webinar, "Thriving in Crisis: Cost-Efficient Security Practices for Manufacturers," where we delve into the innovative solutions that will empower manufacturers to conquer crises and thrive in the face of adversity.
Why Attend?
Stay Ahead of the Curve: The manufacturing landscape is evolving at a breakneck pace, making it essential to stay updated on the latest security challenges and solutions. Our webinar offers a comprehensive overview of the shifting industry dynamics, enabling you to prepare for the uncertainties ahead.
Identify and Address Vulnerabilities: Are you aware of the hidden security gaps that may be lurking within your manufacturing processes? We will help you identify vulnerabilities and provide actionable insights to address them effectively.
Cost-Efficient Security Strategies: We understand the significance of budgetary constraints and the need for cost-efficient solutions. Join us to discover a range of security practices that are not only effective but also optimize your investments for the best possible outcomes.
Cultivate a Resilient Culture: Building a resilient organisation starts with fostering a security-conscious culture. Our webinar will equip you with the tools to instil a resilience mindset throughout your organisation, ensuring every member of your team plays a vital role in safeguarding your manufacturing operations.
Future-Proof Your Business: Thriving in crisis is not just about weathering the storm, but also about preparing for the future. Learn how to develop sustainable, long-term security strategies that adapt and evolve alongside your business, ensuring continued success in a rapidly changing world.
Who Should Attend?
This webinar is tailored for manufacturing professionals, industry leaders, security experts, and anyone involved in securing the manufacturing sector. Whether you're a seasoned veteran seeking to enhance your security measures or a newcomer navigating the complexities of modern manufacturing, this webinar will provide valuable insights for everyone.
Date and Registration:
Don't miss this exclusive opportunity to unlock the secrets of cost-efficient security practices for manufacturers. Mark your calendar for Friday 22nd September 203 and secure your spot by registering here. Space is limited, so make sure to reserve your virtual seat now!
As the manufacturing industry embraces the future, the importance of robust security practices cannot be underestimated. Join us at "Thriving in Crisis: Cost-Efficient Security Practices for Manufacturers" and empower yourself with the tools and knowledge to protect your business, employees, and assets. Together, we will forge a path towards a secure, resilient, and prosperous future for the manufacturing industry.
We look forward to welcoming you at the webinar!